Dublin, Ireland.
I'm standing on a stretch of gravel, surrounded by gray. Gray ground, gray stone walls that soar high over my head, even an iron gray sky, the clouds hovering so low that it begins to feel claustrophobic. I am trapped in an oppressive, gray box, the air hanging thick and humid around me.

There are only two splashes of color. The first is in the form of two small, dark brown crosses, situated on either end of the courtyard, a somber reminder of the purpose behind this gravel stretch.

The second is a flag, proudly waving its colors of orange, white, and green.

These are the execution grounds of Kilmainham Gaol.
An hour prior I hadn't known this place existed. I hadn't known about the dozens of Irish political prisoners that died here, hanged or shot, in a world awash with gray. I hadn't read the goodbye letters of young men, no older than eighteen, as they awaited their inevitable death. I hadn't seen the cramped cells, dank hallways, or somber chapel that became a final home for so many people.
It was one of those unexpected experiences that you sometimes come across on the road. One of those moments that reaches deep inside and touches your heart, leaving a piece of the story with you forever. It reminded me that, while the beer was great and the Irish landscapes were beautiful, I was here for more than that. I was here for the stories.
My experience at Kilmainham Gaol made me think about the bigger question. Why do we travel? What makes us put one foot in front of the other, hop on that airplane or train, and seek out new and foreign lands? What attracts us to that which is so different, when time and time again humanity has proven that it tries to segregate itself, isolating the differences between people and using them as social and behavioral markers.
Oh, he's from Ireland, so of course he drinks a lot. Her? No, she's from the Middle East and that means we should feel sorry for her. Be careful talking to him, he's just another gun-toting American.
How often have you heard something similar? Some stereotypical generalization based simply on where someone is from? Unfortunately, it happens time and time again, around the world.
But I like to think that those who travel are unique. We recognize differences, yes. Our brain is wired to do so. But instead of fearing the foreign, we embrace it. We immerse ourselves in it. We ask questions and, in doing so, we open doors to worlds that others will never have the joy of experiencing.
Travelers are like children, wide-eyed and curious. They want to take in the world, absorb it without judgment, and share their discoveries with as many people as will listen. This is a beautiful thing.
This is why I travel. I hope it's why you travel.
My experience at Kilmainham Gaol was a poignant reminder of how little I know, and how much of the world has yet to reveal its secrets to me. Every country, every city, every individual carries with them a story that is waiting to be shared. This gives us a powerful responsibility. As strangers in their lives and lands it is our duty to listen, without judgment, to these stories.
And then, when we inevitably move on, it is our duty to share them. Not for our own gratification. Not to say, "Hey, look where I've been. Look what I've done." But to encourage understanding and to remind people that just because something is different, that doesn't make it any less human.
As travelers, we are ambassadors of the world's stories. We carry them from every corner of the globe, trading them and planting the seeds of acceptance and understanding. We nurture them and add our own unique flavor. If we are lucky, we ignite the passion to learn and listen in another, and they, too become ambassadors.
It is, in many ways, the most important job of all.
What is the most poignant, surprising, or unexpected story you've come across in your travels? Please share in the comments!
---
T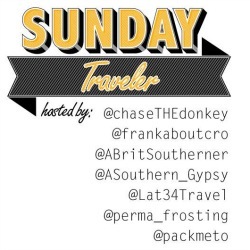 his post is a part of the #SundayTraveler link up. Check out Chasing the Donkey and the other hosts for more great travel insights.